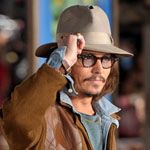 Tim Burton's Dark Shadows will be Johnny Depp's next film, followed by the Disney/Jerry Bruckheimer Lone Ranger, to be directed by Gore Verbinski. What films might follow those? Johnny has mentioned several projects in recent interviews. "[T]here's still some stuff definitely that I'd like to do out there," he told Hollie McKay of FoxNews. "There's certain books that I've been in love with for years that I'd love to bring to life — things like Tom Robbins' Fierce Invalids Home from Hot Climates; that's a great, great book. We're in the works now to put The Ginger Man by JP Donleavy up, get that on its feet, so that's a very exciting possibility."
One fascinating character Johnny Depp will not be playing, however, is Pancho Villa; scheduling conflicts will prevent him taking the role of the Mexican revolutionary opposite Salma Hayek in Emir Kusturica's Wild Roses, Tender Roses [the project has also been known as The Seven Friends of Pancho Villa and the Woman with Six Fingers]. In an interview during promotion for The Tourist, Johnny said he questioned whether he was the right choice for the role. Although he loved the idea of working with Kusturica again, " . . . [W]e've also spoken about the idea of, you know, not just me but any American somehow playing one of the greatest heroes of Mexico . . . . Yeah, I feel somewhat irresponsible doing that. My opinion is that the part should be played by a Mexican actor." According to recent press reports, Kusturica is now considering either Gael Garcia Bernal or Benicio del Toro for the role.
The Zone thanks Myfave for the FoxNews interview, and Sleepy, Emma, Historicalpassion1 and FANtasticJD for articles about the Kusturica film. You can read much more about all these projects on the Zone's News & Views forum and Pit General Discussion forum.