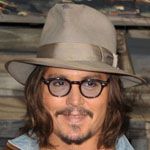 The photo at left shows Johnny Depp smiling at the crowd at the premiere of Gore Verbinski's animated film Rango tonight in Westwood Village, Los Angeles; to see a larger version of the photo, CLICK HERE. The style for the evening was Western casual: Johnny wore a brown leather jacket, a denim shirt layered over a blue t-shirt, ripped jeans, and his favorite fedora. Instead of the customary red carpet, stars walked down a brown carpet and posed by whimsical props and set pieces that included a life-sized cutout of Rango (he's the green chameleon in the Hawaiian shirt) and a mock-up of a Sheriff's office. What fun!
To see Johnny walking down the brown carpet, CLICK HERE, and to see him posing with his alter ego in front of the Sheriff's office, CLICK HERE. See a resemblance? Leading lady Isla Fisher looked stunning in a strapless blue gown; you can see Johnny and Isla HERE. And of course Johnny spent part of the evening signing autographs; you can see that HERE.
The Zone thanks Lu, Aida, FANtasticJD and Theresa for sharing photographs; you can read much more about Rango on the Zone's News & Views forum. For a lively discussion of the premiere pictures, visit the Pit General Discussion forum.