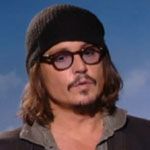 The photo at left shows Johnny Depp during an interview he gave to Screenslam.com during the press junket for Rango, which is taking place in Los Angeles this weekend. Johnny talks about how his children reacted to his role as a lizard, relates his personal acquaintance with a giant iguana, and addresses a couple of topics that have been in the news lately.
When asked about that beautiful villa on the Grand Canal in Venice that he is supposed to have purchased recently, Johnny responded, "No, that's actually not true. As much as I would love to have a place in Venice, live in Venice and spend more time in Venice, I didn't actually buy that place they're telling me that I bought." With a chuckle, he added, "But if they want to sell it, they can certainly call me and we'll see about it."
So he didn't buy a mansion in Venice? "No," Johnny replied. "Somebody made that up."
Having recently returned to the role of Captain Jack Sparrow for a fourth time for Pirates of the Caribbean: On Stranger Tides, would Johnny consider playing the Captain again? "I can keep going," Johnny said. "You know me. As long as the story makes sense . . . as long as it's doing a service to the character. As long as it's doing a service to the audience, I'd be happy."
Many thanks to Corinna Ortiz at Screenslam.com for sharing the video with the Zone; you can see the full video clip HERE.
Thanks also to FANtasticJD for screencaps from the interview; you can see photos of Johnny HERE and HERE. As always, you can read much more about Rango on the Zone's News & Views forum.