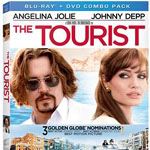 Mark your calendars–The Tourist, starring Johnny Depp and Angelina Jolie, will arrive on Blu-ray and DVD on March 22, 2011 in the North American market–the perfect spring getaway for those who can't afford tickets to Venice. Nominated for three Golden Globe awards, The Tourist is "a sexy action-adventure caper about a mysterious woman and an awkward American who become involved in an international web of intrigue, romance and danger in Venice," reports Cindy Clark of USA Today. The film is scheduled for release on Blu-ray and DVD in the UK on April 25, 2011.
According to USA Today, "[B]onus features on both the DVD and Blu-ray disc include an outtake reel, director's commentary and two featurettes: 'A Gala Affair' and 'Bringing Glamour Back.' Blu-ray exclusive materials include three additional behind-the-scenes featurettes. The DVD will retail for $29, the Blu-ray Disc for $35, and a combo pack will sell for $39." Those are list prices from Sony Pictures Home Entertainment; expect discounts for pre-ordering and on the week of release.
The Zone thanks Gilbert's Girl and Theresa for sharing the news. You can read more about The Tourist's DVD release on the Zone's News & Views forum; the USA Today article is available HERE.