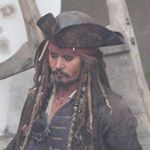 Producer Jerry Bruckheimer has tweeted that Pirates of the Caribbean 4: On Stranger Tides has officially wrapped. Congratulations to Mr. Bruckheimer, director Rob Marshall, Johnny Depp, Geoffrey Rush, Penelope Cruz, Ian McShane, and all the cast and crew! Well done! Mr. Bruckheimer promises that the trailer for On Stranger Tides will be released on December 17th; presumably that is a date for its theatrical release. Look for the trailer to run with showings of Tron:Legacy (also in 3D), which arrives on that date.
Yahoo!Movies has issued a statement claiming that they will show the trailer premiere for Pirates of the Caribbean: On Stranger Tides on December 13 at 4pm ET/1pm PT. We'll be watching for it!
The Zone thanks Emma for the news; you can read much more about On Stranger Tides on the Zone's News & Views forum.