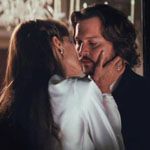 Director Florian Henckel von Donnersmarck won a Best Foreign Film Oscar for his first feature, The Lives of Others, a dark, German-language political thriller that he wrote, directed and produced; the project took him five years to complete. For his second film, Henckel von Donnersmarck chose the romantic thriller The Tourist, with Johnny Depp and Angelina Jolie in the leading roles; the film began shooting in February and will be in theaters in December. "I thought this would be a good way for me to explore something completely different, the lighter, more romantic side that I feel is somewhere in me too," Henckel von Donnersmarck explained to Gina McIntyre of the Los Angeles Times. "I thought it would be a liberating experience to see it can be done in 11 months, and also I thought that if I did another dark thriller, then I'd be that guy."
Versatility is a quality that Henckel von Donnersmarck appreciates. He didn't want The Tourist to be "just a thriller," he told McIntyre; "I find that a little limiting." His actors "were game for breaking out of the boundaries of a traditional genre film," reports McIntyre, "bringing a spry, seductive energy to the suspense and action." Henckel von Donnersmarck said that "it was exciting to watch the interplay between Jolie and Depp during filming" because the actors have such radically different approaches to their craft, "with Depp's, as one might expect, tending to be somewhat more off the cuff and improvisational than Jolie's," writes McIntyre.
Improvisational might be an understatement. Laughing, the director said of Johnny, "I learned quickly that no matter what stage directions I wrote into the script, he doesn't even read them. [. . .] He will always do something phenomenally unexpected. Angelina, she's someone who prepares so very much and will in a way surprise you with her level of preparedness. It was interesting throwing those two styles together."
The Zone thanks Student 1991 and Joni for the Los Angeles Times interview; you can read more on the Zone's Porch General Discussion forum and the News & Views forum.