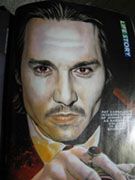 Dark Shadows, director Tim Burton's take on the 1960s gothic soap opera, starring Johnny Depp in the iconic role of vampire Barnabas Collins, has been slated to begin production in January 2011 but today was pushed back to April, according to Deadline.com. "Warner Bros has been trying for several years to get to the starting line on this movie adaptation of the TV series that ran on ABC from 1966-1971," says Deadline, but production was postponed first to allow Burton to complete post-production work on his Alice in Wonderland, and then by a script rewrite, as Seth Grahame-Smith took over from John August. Grahame-Smith is the bestselling author of Abe Lincoln: Vampire Hunter.
The April start date for Dark Shadows "seems to complicate Depp's ability to co-star with Tom Hanks in director Kathryn Bigelow's Triple Frontier. She has been courting Johnny for the drama that she will direct in February for Paramount Pictures," reports Deadline. "The picture (also known as Sleeping Dogs) about Latin American organized crime is scripted by Mark Boal, Bigelow's accomplice on the Oscar-winning The Hurt Locker. Depp liked the role — and the idea of teaming with Hanks — but his participation was subject to working out scheduling issues." We hope both films show up on Johnny's schedule–what a delicious contrast!
The Zone thanks Theresa for the Dark Shadows update; you can read more on the Zone's News & Views forum.