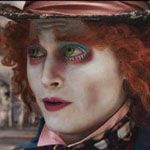 Tim Burton's Alice in Wonderland was honored with multiple nominations for Spike TV's 2010 Scream Awards, including the night's top award, The Ultimate Scream, where it will compete against Avatar, District 9, Inception, Iron Man 2, Kick-Ass, Lost, True Blood, The Twilight Saga: Eclipse, and Zombieland. Whew! Alice in Wonderland also received nominations for Best Fantasy Movie, Best Director, and Best 3D. Johnny Depp was nominated for Best Fantasy Actor, Mia Wasikowska for Best Fantasy Actress and Best Breakout Actress, and Anne Hathaway for Best Supporting Actress. Congratulations to all the nominees!
Congratulations also to the cast and crew of Terry Gilliam's The Imaginarium of Doctor Parnassus, which received a nomination for Best Fantasy Film.
To vote in the 2010 Scream Awards, CLICK HERE. The site invites you to vote now "and vote often," so please do! The Zone thanks Belis for sharing information about the Scream Awards; you can read more on the Zone's News & Views forum.
The 2010 Scream Awards will be presented on October 19, 2010.