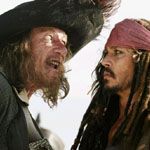 It's official — fan favorite and Oscar winner Geoffrey Rush has signed to reprise his role as Captain Hector Barbossa in Pirates of the Caribbean: On Stranger Tides, reports Marc Graser of Variety. That's great news! Rush joins Johnny Depp as Captain Jack Sparrow, Kevin McNally as Mr. Gibbs, and new cast members Penelope Cruz, Ian McShane, Stephen Graham, Astrid Berges-Frisbey, and Sam Claflin in the next POTC adventure.
Another new face joining the cast of On Stranger Tides is Australian supermodel Gemma Ward, who will appear in a small speaking role as a mermaid. An Australian newspaper, the Courier Mail, reports that Ms. Ward will film her scenes in August. Director Rob Marshall is currently filming On Stranger Tides on Kauai; the movie is due in theaters, in 3D, on May 20, 2011.
The Zone thanks Theresa and Emma for sharing the news; you can read much more about Pirates of the Caribbean: On Stranger Tides on the Zone's News & Views forum.