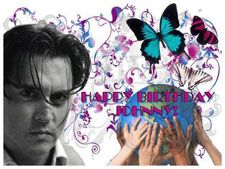 Today is Johnny Depp's birthday, and we would like to send our heartfelt best wishes to Johnny. We hope he enjoys a wonderful birthday celebration with family and friends, and that the year to come, with the filming of Pirates of the Caribbean 4 and the release of The Rum Diary, brings him great joy and creative fulfillment. Above all, we would like to thank him for letting us take this journey with him, and for being a constant source of inspiration, entertainment, and delight, both onscreen and off.
To celebrate Johnny's birthday, People.com has a constantly-morphing video with pictures of Johnny from 1990 through 2010; the video takes a while to load, but when it does, it's a fun trip down memory lane. You can see it HERE. Many thanks to mytreasure for sharing it.
May the happiness Johnny Depp has given to all of us be returned to him in abundance. Moonbeam's birthday card speaks for Zoners all over the world: Happy Birthday, Johnny!