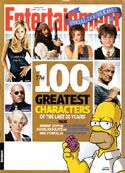 The June 4th special double issue of Entertainment Weekly features "The 100 Greatest Characters of the Last 20 Years" and prominently features a picture of Johnny Depp as Captain Jack Sparrow on the cover. Inside there's a special treat–a full-page feature (page 50, to be exact) on "The Rock Star Pirate, Jack Sparrow," written by Johnny Depp himself. Captain Jack ranks #13 in the 100 Greatest Characters–a fine showing, but not as high as he deserves–and Edward Scissorhands ranks #7. No other actor can boast two creations in the top 20, so congratulations to Johnny!
According to Entertainment Weekly, the top ten greatest characters of the last 20 years are Homer Simpson; Harry Potter; Buffy the Vampire Slayer; Tony Soprano; the Joker; Rachel Green (Friends); Edward Scissorhands; Hannibal Lecter; Carrie Bradshaw (Sex and the City); and Spongebob Squarepants. About Edward Scissorhands, Josh Rottenberg writes that Tim Burton's "darkly skewed vision of suburban alienation meshed beautifully with Depp's quiet soulfulness as the misfit monster, marking the beginning of a partnership that has produced other memorable oddballs, from Ed Wood's cross-dressing hack director to Alice in Wonderland's Mad Hatter. Says Burton, 'It's all been like a series of big dares.'"
The Zone thanks Emma for breaking the news and FANtasticJD for sharing scans; you can read more on the Zone's News & Views forum. To see a larger version of the EW cover, CLICK HERE.