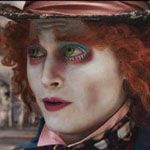 Amazing news for Tim Burton's 3D fantasy Alice in Wonderland–it has officially crossed the $1 billion (yes, billion with a B) mark in worldwide box office totals! How rare an achievement is that? In all of motion picture history, Burton's Alice is only the sixth film to earn a billion dollars. The others? Avatar, Titanic, The Lord of the Rings: The Return of the King, Pirates of the Caribbean: Dead Man's Chest, and The Dark Knight –very nice company indeed. "We feel incredibly fortunate to be able to showcase such an amazing 3D film from visionary director Tim Burton and the creative talents of Johnny Depp, Mia Wasikowska, Helena Bonham Carter, and Anne Hathaway," Disney chairman Rich Ross told the press. No doubt Disney shareholders are feeling fortunate as well.
Alice in Wonderland passed the $1 billion mark on its 85th day of release, and has earned $332.3 million domestically and $667.7 million overseas. Unlike the other billion-dollar movies, Alice did not open in the summertime or holiday season when movie-going is at its height. "It's an amazing result," Disney vice president of international distribution David Kornblum said. "Alice in Wonderland has reinvented the culture of cinema-going in a big way." Kornblum's domestic distribution counterpart, Chuck Viane, told Variety that Disney has Alice's "creative team" to thank for the film's success: "I think so much of this is the combination of Johnny Depp and Tim Burton." Agreed!
The Zone thanks Tocnavforjd, FANtasticJD, Emma, Theresa, Shadowydog and RumLover for sharing box office data–you can read much more on the Zone's News & View forum.
We offer our warmest congratulations to Tim Burton, Johnny Depp, and the cast and crew of Alice in Wonderland on their tremendous success. Well done!