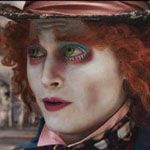 Tim Burton's Alice in Wonderland, starring Johnny Depp as the Mad Hatter, earned $34 million at the overseas box office this weekend, boosted by big debuts in Japan ($14 million) and Spain ($10.1 million). This brings the film's overseas earnings past the half-billion-dollar mark–whew!–with total foreign earnings of $503.5 million to date. Alice continues in the top ten at the North American box office, despite the loss of its 3D screens, earning $3.5 million last weekend for a total domestic gross of $324 million.
In terms of worldwide box office, Alice in Wonderland now stands at $827.5 million, making it the 22nd biggest release of all time. Alice is now the 4th biggest film in Disney history, behind Pirates of the Caribbean: Dead Man's Chest ($1.066 billion), Pirates of the Caribbean: At World's End ($961 million), and Finding Nemo ($868 million).
The Zone thanks GAO and Emma for box-office updates; you can read more on the Zone's News & Views forum.