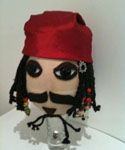 Johnny Depp is up to his charitable ways once again, this time designing an Easter egg–decorated as Captain Jack Sparrow and signed by Johnny–for a charity auction on Ebay to benefit the Royal Blind School in Edinburgh. According to the school's Ebay auction page, "Some of the country's favourite celebrities have come together to create an exclusive collection of individually crafted Faberge-style eggs, to be auctioned in aid of the Royal Blind School Appeal. Each egg is signed and contains a special celeb gift." Bidding began at one minute after midnight on March 31st, and will end at one minute to midnight on Friday, April 9th (adjust closing time for your location if you are not in Edinburgh . . . we wouldn't want you to miss out).
The Royal Blind School hopes to raise 6 million pounds in the next few years to build a new residential center. Helen Forrest, marketing and fundraising manager for the Royal Blind School, told the press, "We wanted to create a concept that put the fun back into fundraising. The 'Eggstravaganza' is ideal as it offers the chance to get hold of totally unique items. As the first of its kind, we've absolutely no idea what these eggs will go for and haven't really been able to put a value on them. In my mind, the Johnny Depp piece is priceless, but that probably goes for every woman!" You can see a larger close-up view of Johnny's Captain Jack Sparrow egg HERE, and for a view of the egg in its display cage, CLICK HERE. You can bid on the egg HERE.
The Zone thanks Studiowoman for sharing the auction news and AnaMaria for pictures of the adorable Captain Jack egg. You can read more about the auction on the Zone's News & Views forum.
"Our thanks go out to all the celebrities for taking the time to get involved," says Ms. Forrest. Cheers to Johnny for lending a helping hand to the Royal Blind School!