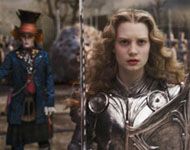 Congratulations to Tim Burton and his merry repertory company! Alice in Wonderland earned a stunning $116.1 million at the box-office this weekend in the U.S. and Canada. "Even accounting for ticket price inflation, that's the biggest-ever opening in the first quarter of the year, easily beating the record of $83.8 million set by The Passion of the Christ in 2004," says the Los Angeles Times. And the news from overseas was just as strong: Disney reports that Alice "logged the biggest international opening weekend ever for any title launched in the January-April period," grossing an estimated $94 million in 40 territories.
Combined with its No. 1 weekend tally in the U.S. and Canada, Alice grossed a total of $210.3 million on its first weekend. That gives Alice the fourth highest worldwide opening for a non-sequel film. Amazing!
Alice in Wonderland's performance abroad is especially impressive because the film is playing in only "60% of the international marketplace," according to Disney. The Hollywood Reporter writes that "key territories [such as] France and China won't open the picture until later this month with debuts in Spain, Japan and Brazil due next month."
"Its huge opening more than justifies the approximately $200 million that Disney spent to make the film," notes the Los Angeles Times. And Alice should have legs: "Audiences gave the movie an average grade of A-minus, according to market research firm CinemaScore, meaning that word of mouth should be strong despite mixed reviews."
The Zone extends our congratulations and sincere thanks to retired Disney chief Dick Cook, who gave the green light to Alice in Wonderland and assembled its marvelously talented roster of artists. Mr. Cook's brainchild has now earned more at the box office in just three days than "the total gross of any other 2010 release," says BoxOfficeMojo. Not bad at all.
The Zone thanks Shadowydog and FANtasticJD for the box office reports; you can read more on the Zone's News & Views forum.