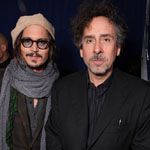 At the press conference for Disney's soon-to-be-released 3D version of Alice in Wonderland, Johnny Depp adeptly fielded several questions regarding his long-time collaboration with director Tim Burton, which now spans twenty years and seven films– Edward Scissorhands, Ed Wood, Sleepy Hollow, Charlie and the Chocolate Factory, The Corpse Bride, Sweeney Todd, and now Alice.
Q: This is now your 7th film with Tim Burton. When he came to you and told you that he wanted you to play the Mad Hatter, what was your reaction? Why did you want to play that character?

Johnny Depp: To be honest, he could have said he wanted me to play Alice, and I would have. I would have done whatever character Tim wanted. But, certainly, the fact that it was the Mad Hatter was a bonus because of the great challenge to try to find this guy and not just be a rubber ball you heave into an empty room and watch it bounce all over the place. I wanted to find that part of the character, but also a little bit more of the history and gravity to that.
Q: How has your professional and personal relationship with Tim grown?
Johnny Depp: Each time out of the gate with Tim, the initial thing for me is to come up with a character. And then, there's a certain amount of pressure where I go, "[. . .W]ill this be the one where I disappoint him?" So, I try really hard, especially early on, to come up with something that's very different, that he hasn't experienced before and that we haven't experienced together before, and that will stimulate him and inspire him to make choices based on that character. I try not to embarrass him, basically.
The Zone thanks Theresa for sharing the news; you can read more about the Alice in Wonderland press conference on the Zone's News & Views forum. To see a larger version of the photo of Johnny Depp and Tim Burton at the Alice in Wonderland Ultimate Fan Event, CLICK HERE.