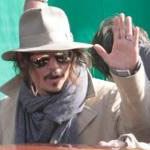 One of the world's loveliest cities got even more beautiful on Saturday (February 27) when Johnny Depp arrived in Venice to begin filming The Tourist. A romantic thriller in the Hitchcock mode, The Tourist is based on the 2005 French film Anthony Zimmer and co-stars Angelina Jolie. Oscar-winner Florian Henckel von Donnersmarck is directing. Shooting is expected to continue in Venice for several weeks, no doubt causing paparazzi to jump for joy.
Johnny Depp joked about the media frenzy around The Tourist when he spoke to reporters during the promotion for Alice in Wonderland. "I feel I'm not getting photographed by the paparazzi enough, so I figure I'll go and hang out in Venice with Brad and Angelina," he quipped. Of his new co-star, Johnny said graciously, "I'd never met Angelina before but I found her to be a real treat, I mean a real doll. She's a nice woman, serious about what she does and loves her man and loves her kids. I was very impressed."
The Zone thanks Emma for the interview with Johnny; you can read more about The Tourist on the Zone's News & View forum.