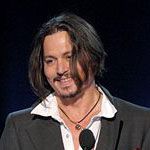 The photo at left shows Johnny Depp smiling as he stands at the microphone in the Nokia Theatre in Los Angeles tonight, acknowledging a standing ovation and accepting honors at the 2010 People's Choice Awards. Johnny won in the category of "Favorite Movie Actor" for his role as John Dillinger in Public Enemies, but that wasn't all the night had in store for us. Presenter Sacha Baron Cohen, who appeared with Johnny in Sweeney Todd, announced another honor: Johnny Depp had earned the most votes in the "People's Choice Awards" over the past 10 years, which earned him the honor of being named "Favorite Actor of the Decade." Wow! Congratulations, Johnny!
Sacha Baron Cohen introduced Johnny as "the greatest character actor of his generation, and the most popular movie star in the world."
Johnny replied, "I'm going to have to thank Sacha Baron Cohen–the great Sacha Baron Cohen–for not totally decimating me here tonight. Thank you, Sacha.
"I'm deeply humbled by this great honor, which comes from you, the people, which means everything to me, and to us all," Johnny continued. "Because the only reason any of us are up here is because of you. So thank you for that. It has been an amazing decade, an incredible ride, and I sincerely thank you all for bestowing upon me all your great treasures. Thank you, thank you so much. Good night."

The People's Choice Awards nominees and winners are determined by popular vote; more than 60 million votes were tallied this year.
To see a larger version of the photo of Johnny on stage, CLICK HERE, and to see a photo of Johnny holding the People's Choice Award aloft, CLICK HERE. Thanks to FANtasticJD for the photos; you can see more at JustJared HERE.
Many thanks to all the Zone members who were watching streaming video and updating the News forum during the event. Thank you for capturing the excitement! –Part-Time Poet