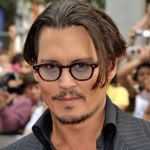 Johnny Depp's "combination of acting chops and mass appeal puts him at the top of Hollywood's Real A List, our first list of actors who have been nominated for Oscars and who have also made good money at the box office," says Forbes writer Dorothy Pomerantz. She explains, "There are prestige actors who win tons of awards and then there are blockbuster actors who guarantee boffo box office around the world. The stars who can succeed in both worlds are the most coveted actors in Hollywood."
According to Forbes, no actor should be more coveted than Johnny Depp: over the past five years, Johnny has received three Best Actor Oscar nominations, and his films have earned $3 billion since 2004. (This total does not include the first Pirates of the Caribbean film, which was released in 2003). What an impressive achievement!
Rounding out the top five on Forbes's Real "A" List: Brad Pitt, the late Heath Ledger, Will Smith, and all-time Oscar nomination champion Meryl Streep.
The Zone thanks Theresa for breaking the news; you can read more about the "Real 'A' List" on the Zone's News & Views forum. –Part-Time Poet