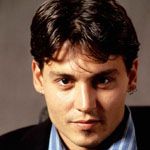 "Marlon Brando and the greatest film never made in Ireland is now the focus of a remarkable tribute," writes Ralph Riegel of the Irish Independent. "The greatest film never made in Ireland" is, of course, is 1995's Divine Rapture, which was to star Marlon Brando, Johnny Depp, and Debra Winger. But the production shut down for financial reasons after less than three weeks' shooting and with only 24 minutes of film in the can . . . alas. "[N]ow an Irish film company is preparing a special documentary on Divine Rapture and Marlon Brando's ill-fated time in Ireland," writes Riegel.
The documentary, called Ballybrando, is being produced by Hot Shot Films, which recently flew several members of the Divine Rapture film crew back to the Irish village of Ballycotton "for a nostalgic chat with locals about the movie that never was." Riegel reports that "the locals were stunned" when they saw the 24 minutes of footage that survives from the shoot.
One of the film's extras, singer Darragh McGann, told Riegel that he gives Marlon Brando credit for inspiring his career. "When Marlon praised my singing after a break in filming and told me I should make a career out of it, I believed him," McGann says. "I have never looked back since." As for Brando's compliment, "that's something I will treasure for life."
Ballybrando is due to be screened by RTE as part of its winter schedule; hopefully it will be shown abroad as well.
The Zone thanks Theresa for the Riegel article; you can read more about it on the News & Views forum, or CLICK HERE. –Part-Time Poet