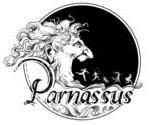 Terry Gilliam's The Imaginarium of Doctor Parnassus, featuring the late Heath Ledger in his final role, will have its world premiere at the Cannes Film Festival on May 22nd; however, the film's U.S. sales representatives, Cinetic Media, didn't want to wait for Cannes to attempt to lock down a U.S. distribution deal. Cinetic took the rather unusual step of screening the completed film for potential U.S. buyers on Tuesday. "All of the major independent buyers in town packed Hollywood's DGA theater for the screening," writes Nicole Sperling of EW.com. "[A]nd while most left feeling a bit befuddled (as one often does coming out of a Gilliam feature) the consensus was that the movie is better than expected."
Although Heath Ledger died during filming and Johnny Depp, Jude Law, and Colin Farrell stepped in to complete the role, Sperling reports that Ledger is seen "throughout the film" in his character of Tony, while the other actors only appear in "dream sequences," of which Colin Farrell's is the longest.
According to Steven Zeitchik of The Hollywood Reporter's "Risky Business" blog, while buyers expressed admiration for the Gilliam film's arresting visual style and sharp social commentary, they were concerned that the complicated plot would leave some viewers muddled. We will have to wait and see if Doctor Parnassus gets a U. S. distribution deal done before it opens at Cannes.
The Zone thanks Theresa for the Nicole Sperling article and Emma for the Zeitchik report. You can read more about Doctor Parnassus's search for a distributor on the News & Views forum. –Part-Time Poet