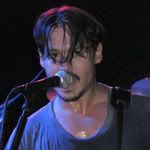 That's Johnny Depp at the microphone onstage at the Club Cinema in Pompano Beach, Florida early (
very early)
this morning as he and his Kids bandmates–Bruce Witkin, Joey Malone, and Beano Hanti–rocked the house at the second annual Sheila Witkin Memorial Reunion Concert. A capacity crowd of 2,500 enjoyed sets from south Florida bands Charlie Pickett, Tight Squeeze, Slyder, and the Romantics; the Kids, closing the show, didn't take the stage until 12:30 a.m. "Depp had no trouble handling his portion of the Kids' springy, guitar-centered brand of power pop," reports the Sun Sentinel, adding that Johnny "cut a fairly laid-back figure [. . .] and concentrated on his guitarwork through the screams coming from the packed floor." Some of those screams came from the many Zoners in attendance; you can read some first-person accounts of last night's concert on the Zone's Pit forum (with many more to come as soon as the concert-goers can get home to their computers).
Johnny's longtime partner Vanessa Paradis and their daughter Lily-Rose were present to cheer him on. People.com reports that "Depp had two of his biggest fans in the audience watching him: girlfriend Vanessa Paradis and their 9-year-old daughter Lily-Rose, who sat together in the venue's box seats as Depp smiled up at them from the stage (son Jack, 6, was not at the show)."
This weekend's concerts (the Kids will close the show again tonight) are fundraisers for the Sheila Witkin Foundation and the Dan Marino Foundation. Our readers who would like to aid the cause can make a donation via Paypal to the Sheila Witkin Foundation at their website. The late Sheila Witkin, mother of Bruce, was a driving force in the south Florida music scene in the 1970s and 80s, and is fondly remembered for her tireless promotion of local bands and her nurturing nature; she was "everybody's mom" and "a friend who would open her door to anyone at anytime," as her Foundation website explains. The concerts carry Sheila Witkin's kindness forward to the next generation by supporting childrens' charities–a fitting tribute to a beloved mother and musical pioneer.
The Zone thanks Bonnie and Carasun for sharing photos of Johnny in concert: to see a larger version of our photo at left, CLICK HERE, and to see another photo of JD with his guitar, CLICK HERE. You can read much more about the Witkin concerts on the Zone's News & Views forum and on the Pit. –Part-Time Poet