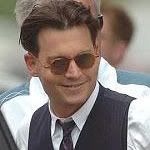 Friday, June 27 marked the final day of filming for Michael Mann's gangster epic PUBLIC ENEMIES in the Midwest, as the filmmakers rolled into Lockport, Illinois to shoot a few scenes. The photo at left shows Johnny Depp, in costume as John Dillinger, during the Lockport filming; to see a larger version, CLICK HERE. Lockport fans began gathering at a cordoned-off area on 11th Street early in the morning, watching the costumed extras going through their paces and the vintage cars circling up and down a four-block stretch of State Street. According to local reporter Annie Alleman, Johnny Depp arrived around 1:30 p.m. "He got out of a navy blue Ford Expedition at 11th and State streets. When he heard the screams from the crowd, he smiled and waved politely but continued walking north on State Street"–off to work.
Later, around ten in the evening, Johnny returned with Jerry Judge to do a meet-and-greet with a large crowd in Lockport. He shook hands and exchanged pleasantries for the last time with the dedicated fans in the Midwest who have followed PUBLIC ENEMIES since its first day of shooting, March 17th; then he stood on the running board of his SUV and waved goodbye as it slowly pulled away. To see a YouTube video of that last meet-and-greet, CLICK HERE.
The Zone thanks Gilbert's Girl for the Lockport article, Silent for the video, and Theresa for the photos. There are many videos on YouTube for the last meet-and-greets in St. Anne and Lockport, shot by fans: it's well worth a trip to look at them. We thank all the You Tube posters who have so generously shared their videos with those of us unable to get to Illinois, Indiana or Wisconsin this spring. You have brought the meet-and-greets home to us in a way that lets all of us feel that we were there. Thanks so much!
And thank you to the incomparable Johnny Depp for his patience and generosity during the shooting of PUBLIC ENEMIES. Surely no actor has ever been so kind to so many for so long. We will never forget it. –Part-Time Poet