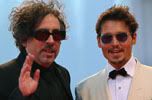 One highlight of the Golden Lion presentation to Tim Burton at the Venice Film Festival was the first public showing of a clip from his upcoming film of Stephen Sondheim's award-winning musical SWEENEY TODD. The eight-minute segment of SWEENEY TODD has already generated plenty of positive buzz . . . and immediately laid to rest those persistent questions about whether Johnny Depp and Helena Bonham Carter, neither of whom has previous screen musical experience, could sing the demanding Sondheim roles. According to Variety's Nick Vivarelli, "The clips, in sharp desaturated color, consisted largely of a key scene in the Stephen Sondheim musical in which Todd, played by Johnny Depp, is handed a razor case by Mrs. Lovett, played by Helena Bonham Carter. Singing 'My Friends,' Depp proved he can carry a tune, dueting delightfully with Bonham Carter [. . .].
"A white streak in his hair, a mad twinkle in his eye, Depp– in his sixth Burton pic — seemed in fine form in the quick sneak, which, while entertainingly eerie, displayed no violence," writes Variety. At a press conference earlier in the day, Burton elaborated on his vision for SWEENEY TODD: "I am just trying to make an old-fashioned horror movie with music in it."
Burton explained that he found his inspiration in vintage films: "I always wanted to make a movie that went back to the way people like Boris Karloff or Lon Chaney or Peter Lorre looked." Burton sees his film as entering "uncharted territory" because "I don't think there are that many horror movie musicals out there these days," the director said. "It will be interesting to see what happens with it." Based on the reaction in Venice, the director will need to look for more laudatory adjectives.
Thanks to emma for the Variety article; you can read it on the News & Views forum. –Part-Time Poet