Pg. 201:
What Robert Fraser and Christopher Gibbs had in common was nerve and fearlessness—more front than Selfridges.
Christopher Gibbs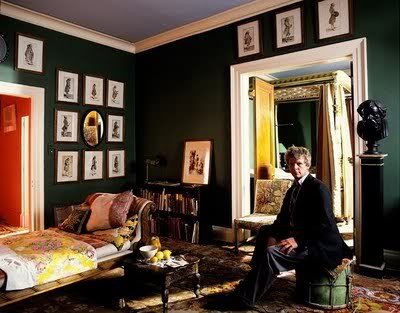 Christopher Gibbs used to have the most interesting antique shop in London. I say "used to" because it appears from his website that he has closed shop.



For 40 years his shop sold the most beautiful and interesting furniture, paintings and works of art that he could find, presenting a wide and eclectic spectrum of objects distinguished by form, color and design, often with history and provenance. Many of the items were English, beautiful or rare, stimulating or soothing to live with. They sold to museums and art collectors worldwide but also to collectors, decorators, traders and people who are discerning about what they live with. London's top interior decorators - David Milinaric, Tom Parr, John Stephanidis and David Hicks - have come to him for advice and inspiration.

As a young man in the 60s, Christopher Gibbs belonged to that group of "beautiful" upper-class people – Milinaric, Sir Mark Palmer, the Knight of Glin, the Ormsby-Gore girls, Lord Reay, Georgia Tennant, Marriane Faithfull – who were so prominent in the social life of that period.

He reportedly advised on the styling for the film "Performance" starring Mick Jagger and James Fox.





Robert Fraser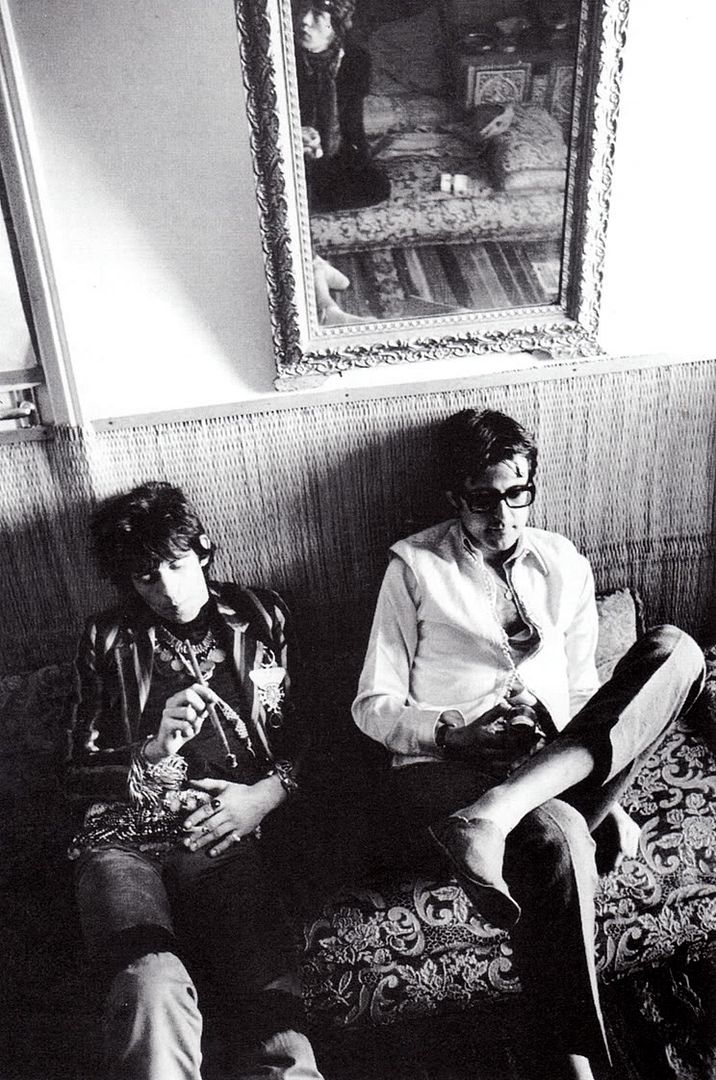 [youtube]KT19LYHSn0o[/youtube]





Freddie Sessler



Pg. 333:
People would knock Freddie, say he was crude, insulting, vulgar, and why not? You could think anything you wanted f him, but Freddie was one of the best men I ever met.
I didn't find a bio on Freddie but found one on his brother, famous London restaurateur, Siegi. Seigi was the eldest of 5 brothers and 2 sisters. Their life was disrupted by the breaking up of Poland. He managed to get to England, and fought in WW2 from the start, only discovering, like many Poles, that at the end of the war, his brother Freddie, was the only survivor of his immediate family.

These are some tributes to Sessler after his death:



[youtube]ZGZN4jaH1ao[/youtube]

[youtube]N7ITEWSYedM[/youtube]


Mackenzie Phillips was married to Sessler's son, rock-group manager Jeff, from 1979–1981. NOTE: In case you are wondering, we chose not to do a tidbit on John Phillips.


In a biography on David Bowie - David Bowie: Starman by Paul Trynka, I found this:


Freddie Sessler, a concentration camp survivor and rock-and-roll fan, was "the kind of guy who can make a party happen," says Iggy Pop. Sessler was a character whose existence was rarely acknowledged in the wider world despite the influence he had behind the scenes. For decades he acted as a companion to Keith Richards and Ron Wood, loved for his Chico Marx-style gruff humor an for his ability to source the best drugs in the West. With customary ease, Freddie gained admission to the Beverly Wilshire, his pockets bulging with vials of pure Merck—pharmaceutical cocaine, far more powerful than anything available in New York. This was the mother lode, the drug lauded by Sigmund Freud as "this magical substance." From then on, Freddie would be David's companion too.








Sources:



ChristopherGibbs.com
Nicholas Hill & Victor Watts
The Sun
Wikipedia